Shane Van Boening avoided a scare against rising star Joey Tate along the way to Winners' Qualification on the second day of action at the 2022 US Open Pool Championship, Harrah's Resort, Atlantic City.
Van Boening started the hunt for his record-breaking sixth US Open crown against Tate and he was pushed all the way by the fearless youngster. Tate came into the contest with little expectation of what was to come and he led at various moments to put Van Boening on the periphery of the losers side of the draw. At 7-7, Tate was at the table and looked to have a routine run out ahead only to pot the wrong ball giving Van Boening ball in hand. With that, Van Boening got to the hill only to scratch on the break, Tate failed to make it pay as Van Boening came through breaking sweat along the way at 9-7.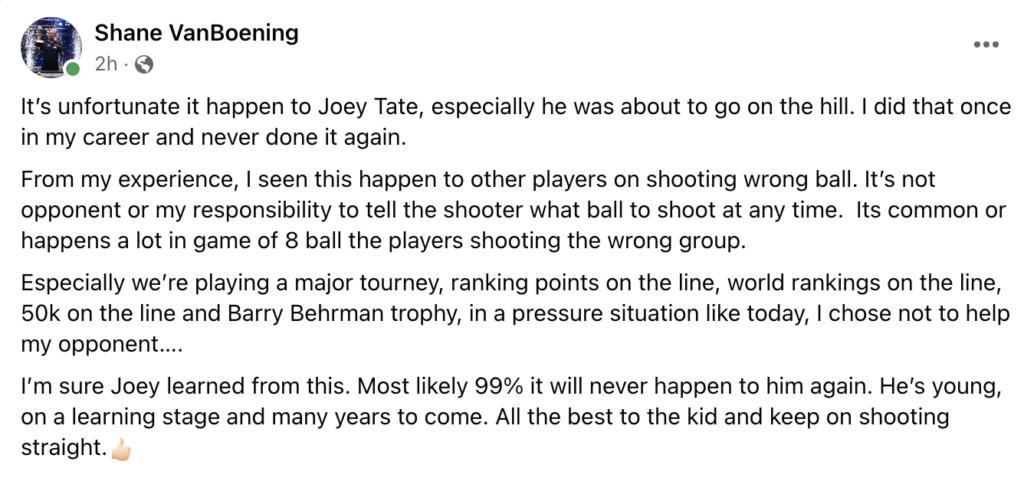 Every corner of the Waterfront Center at Harrah's Resort was packed with big names as fans soaked in the action. Chang Jung-Lin made light work of his day with two wins dropping only four racks along the way whilst the Austrian contingent of Albin Ouschan, Mario He progressed safely to Winners Qualification without a hitch. Johann Chua stepped past Brandon Shuff 9-7 in the morning before dismantling former Mosconi Cup player Nick Ekonomopoulos 9-2 to face a mouthwatering encounter with Ko Pin Yi for a spot in the Last 64.
Itt was the end of the road for Jeff De Luna and Dimitri Jungo. Jungo losing out to Ke Wu.
Acton returns from 10 am ET tomorrow morning with Ko Pin Yi meeting Chua for a spot in the Last 64 before 2019 champion Joshua Filler gets his first taste of TV action this week live on the Matchroom Pool Facebook Page at 11:30 am ET. Table 2 begins with Kristina Tkach against Tate before defending champion Carlo Biado takes on Joven Bustamante.
From Monday, 10 October to Thursday, 13 October fans will be able to enjoy the action globally on the Matchroom Pool Facebook and YouTube pages as well as Matchroom.Live with two tables streamed. Fans in China can enjoy all the action on our Weibo page.
The final two days will be live on Sky Sports in the UK, DAZN in the USA, Canada, Brazil, Spain, and Italy as well as Viaplay in Scandinavia, the Baltics and Poland, and other broadcasters worldwide which can be found here including on Matchroom.Live in countries without a broadcaster.
A range of ticket packages are available including an event pass giving you access to all six days of action for only $155, a saving of up to $55. A premium event pass gives you reserved front two seats for the single-elimination stage at $205. There is a handful of seats available for the final day.
Ticket Types – BUY TICKETS HERE
Day Tickets – From $31 including local taxes
Season Pass – $155 including local taxes
Season Pass Premium – $205 including local taxes
All tickets are subject to booking and processing fees.