ALBIN OUSCHAN, the young Austrian who so narrowly lost out in a three-man play-off for the final PartyPoker Mosconi Cup spot in 2012, is well set to make his debut this December in Las Vegas following a magnificent win at the recent China Open. The 24 year-old from Klagenfurt who has often lived in the shadow of his illustrious sister, now stands top of both the European 'World' Ranking as well as the 'Combined' Ranking.
Taking place from Monday December 7 to Thursday December 10, the Europe v USA showdown is hosted by The Tropicana in Las Vegas and will be the 22nd annual running of pool's biggest event. Each team is made up of five players – three from the PartyPoker Mosconi Cup rankings with the remaining two wild-card picks.
After battling through the group stages and one of the toughest fields of the year, Ouschan beat young Taiwanese Ko Ping Chung in the round of 32. A win over tough Polish player Mateusz Sniegocki carried him to the quarter-finals where he recorded an impressive win over Lee Vann Corteza. Local player Chu Bing Jie was despatched in the semi before an 11-8 win over Canada's John Morra sealed the most prestigious win of his career.
A high finish at the World 9 Ball in Qatar in September could well see Ouschan in a great position to make the team ahead of the final qualifying event – the US Open. David Alcaide of Spain still holds the second spot in the 'World' Rankings, this time tied with Holland's Nick van den Berg who made the semi-finals in Shanghai.
There are three separate ranking lists in operation – the first comprised of a five event Euro Tour series; the second a four event 'World' series and the last a combined ranking of the two.  At the close of the qualification series, the No.1 ranked player on each of the three lists will be named as part of Team Europe as they look to defend their title in Las Vegas from 7th to 10th December. The next Mosconi Cup ranking event is the Austrian Open which starts on 30 July and concludes on 2 August.
In the event that a player tops all three ranking lists, then the second placed players on the Euro Tour and World Rankings respectively would take the other two spots. If a player is top of the Euro Tour list and Combined list, or World list and Combined list, then the available spot would go to the next highest player on the Combined list not already qualified.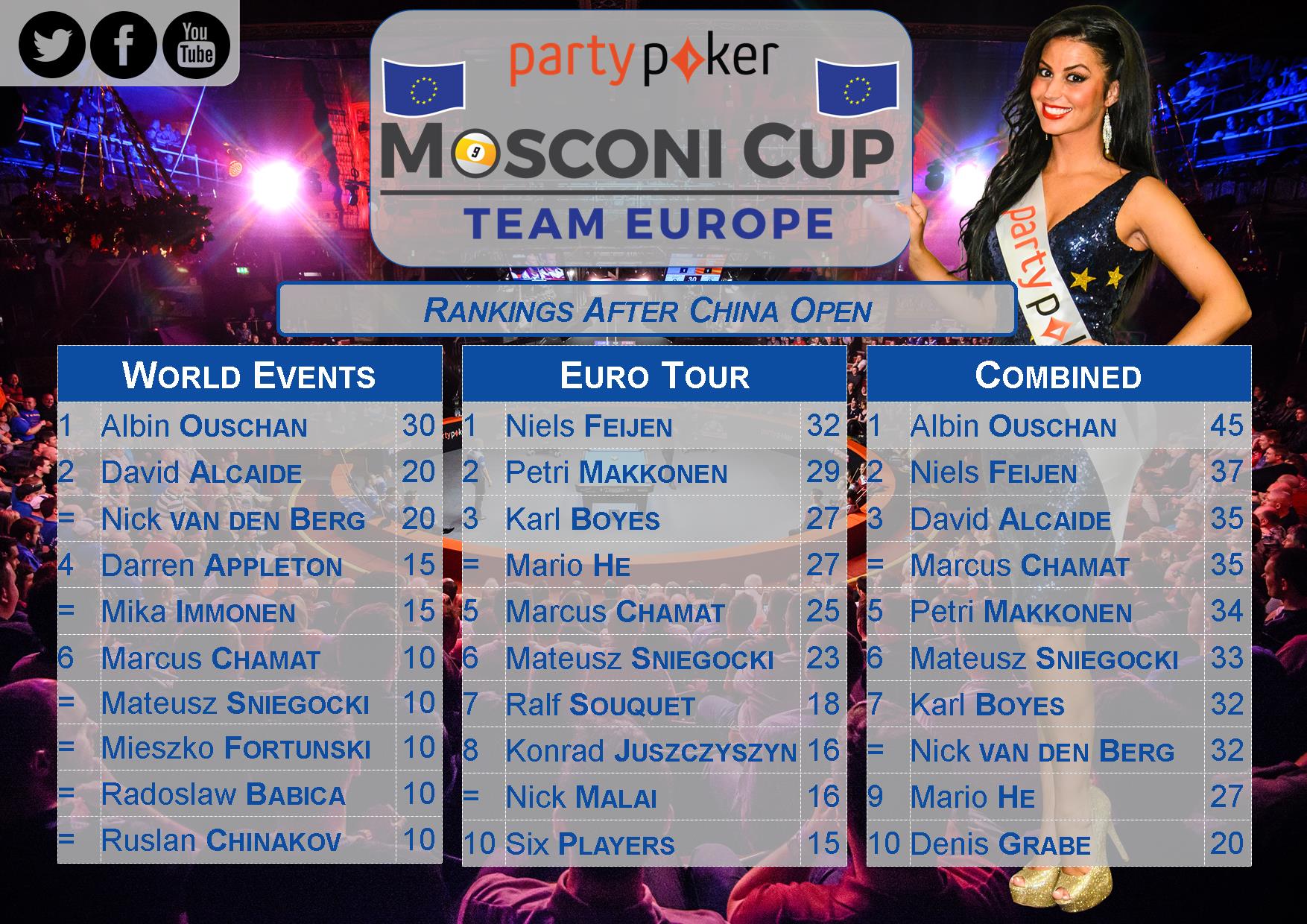 Tickets for the PartyPoker Mosconi Cup are available exclusively through The New Tropicana Las Vegas. Visit http://trop.lv/MosconiCup2015 , call 800.829.9034 or purchase in person at the Show Tickets desk.