The MansionBet World Pool Masters returns to Gibraltar this weekend with a cast of former champions in tow celebrating 25 years of pool's biggest invitational event.
The tournament's history started in 1993 in Plymouth, England and in the years since has been won by some of the biggest names in the game. The Masters roll-call includes Ralf Souquet – who has won on a record six occasions – two-time winner Shane van Boening and a host of world champions including Darren Appleton, Earl Strickland and Alex Pagulayan. All will be at Victoria Stadium, Gibraltar this Friday thru Sunday, hoping to taste the winning feeling again.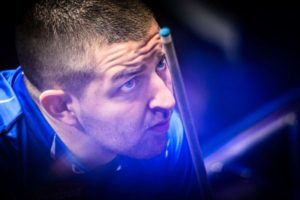 They are joined by four world-class invitations. Wu Jiaqing was just 16 when he won the WPA 9-Ball Championship. Jayson Shaw is on the path to legendary status after a tantalising two years in which he has claimed no less than 25 titles. Karl Boyes is a man who rises to every big occasion – four times a Mosconi Cup winner, he was 2015 US Open finalist against the odds and is also a former World 8-Ball champ and a World Cup winner.
Joshua Filler completes the wild cards – a regular in the final stages of EuroTour events in recent years, the 20-year-old landed on the world stage when he captured the WPA China Open last June and then announced himself to the global audience in December, taking the MVP award on Mosconi Cup debut while being described by captain Marcus Chamat as pool's answer to Ronnie O'Sullivan.
Boyes will come up against defending champion David Alciade in round one on Friday evening. Alcaide took the title twelve months ago by winning a hill-hill final against Shaw. The opening session also sees Souquet face 2012 Masters winner Karol Skowerski and Niels Feijen up against Raj Hundal.
Appleton faces Strickland on Saturday afternoon, a fixture many have highlighted as a standout tie. Wu against Dennis Orcollo and Van Boening vs. Daryl Peach completes the line-up for the first of two sessions on Saturday.
Round one concludes on Saturday evening as Pagulayan faces Lely before the mouth-watering prospect of Shaw vs. Filler.
Tickets for the 25th World Pool Masters are on sale now priced £7-12 per session with season tickets available for just £34.99 at www.buytickets.gi.
The tournament will be broadcast live throughout on Sky Sports in the UK and on networks worldwide, with a Facebook Live stream available in countries where there is no TV broadcaster showing the event. For more details please see here: https://matchroompool.com/world-pool-masters/#watchlive
The World Pool Masters will be broadcast live for 20 hours in total on Sky Sports in the UK and on networks around the world. The MansionBet World Pool Masters is also sponsored by the following suppliers: RASSON (tables), IWAN SIMONIS (Simonis cloth), SALUC (Aramith balls), PREDATOR (cues) and ULTIMATE TEAM GEAR (clothing).