ALBIN OUSCHAN saw his 2016 Mosconi Cup chances increase hugely when he was crowned WPA World 9 Ball champion in Qatar earlier this month. The title was a vindication of the young Austrian's talent and resolve, as he followed up his silver medal in 2015 with gold. The win puts Ouschan on top of the European World points list after just one event.
There are three more tournaments to go – China Open, US Open and the Kuwait Open – and Ouschan has got off to the best possible start in that ranking and will be looking to make the team and emulate his Mosconi Cup showing last year when he bagged the winning 9 ball.
Jayson Shaw maintained his top spot in both the Combined and European lists with a quarter-final finish in Qatar, while Mark Gray is well placed in second position on both lists. German legend Ralf Souquet is in third spot and looking to make his record-equalling 17th appearance in the Cup.
There are five more events remaining for players to win points, starting with the China Open which commences on August 21st.
There are three separate ranking lists with the top player in each ranking gaining an automatic spot on Team Europe for the 23rd annual Mosconi Cup which takes place at the Alexandra Palace, London from 6th to 9th December.
The first ranking will comprise the nine European events – 'European Ranking'; the second will be the four WPA international events – 'World Ranking'; the third will be made up of all 13 events – 'Combined Ranking'.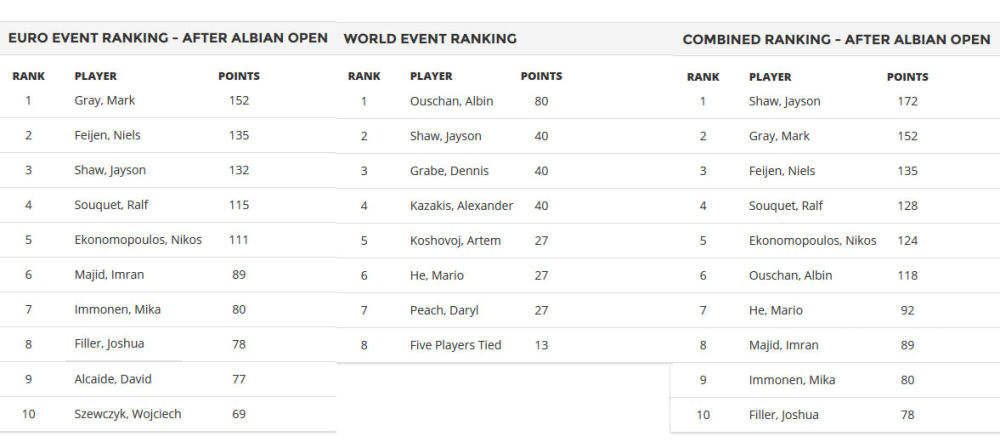 Tickets for the Mosconi Cup are available from www.matchroompool.com or for packages from the USA contact diane@thecruiseplanner.com
2016 MOSCONI CUP is sponsored by Rasson Billiards who supply the Official Table. The cloth is supplied by Iwan Simonis and the Official Balls are Super Aramith by Saluc. Predator is the Official Cue of the event and Ultimate Team Gear provide all Mosconi Cup apparel.