We're delighted to reveal the full field for the 2022 World Pool Championship taking place from next Wednesday, 6 April to Sunday, 10 April at the Marshall Arena, Milton Keynes.
The best 128 in the world have been invited and will compete for a new bumper prize fund of $325,000 and $60,000 first place.
The Nineball World Rankings will structure and seed the event, with 64 players seeded as follows:
Top 40 off the 2022 Nineball World Rankings
24 determined by the WPA Rankings
Fans will be able to see the draw for the opening round tomorrow on the Matchroom Pool Facebook page from 5 pm UK time here.
Focussing on transparency, Matchroom is committed to delivering a seamless entry system with the structure of invites for the World Pool Championship set out as below
Total Field: 128
50 World Pool-Billiard Association Invites
1-40 ranked players on Nineball World Rankings not otherwise invited by WPA
15 WPA Women Allocations
Up to 20 further WPA Allocations
Top 16 2021 World Pool Championship
Top 16 2021 US Open Pool Championship
WPA Ranking below 32
Matchroom Invitations
If a player fits into more than one category, the first category they fit into is where the invite will be taken from. With the Matchroom Nineball World Rankings only launching earlier this year, we aim to work to 50 WPA allocations and the remaining 78 from the Nineball World Rankings in future years.
Full Field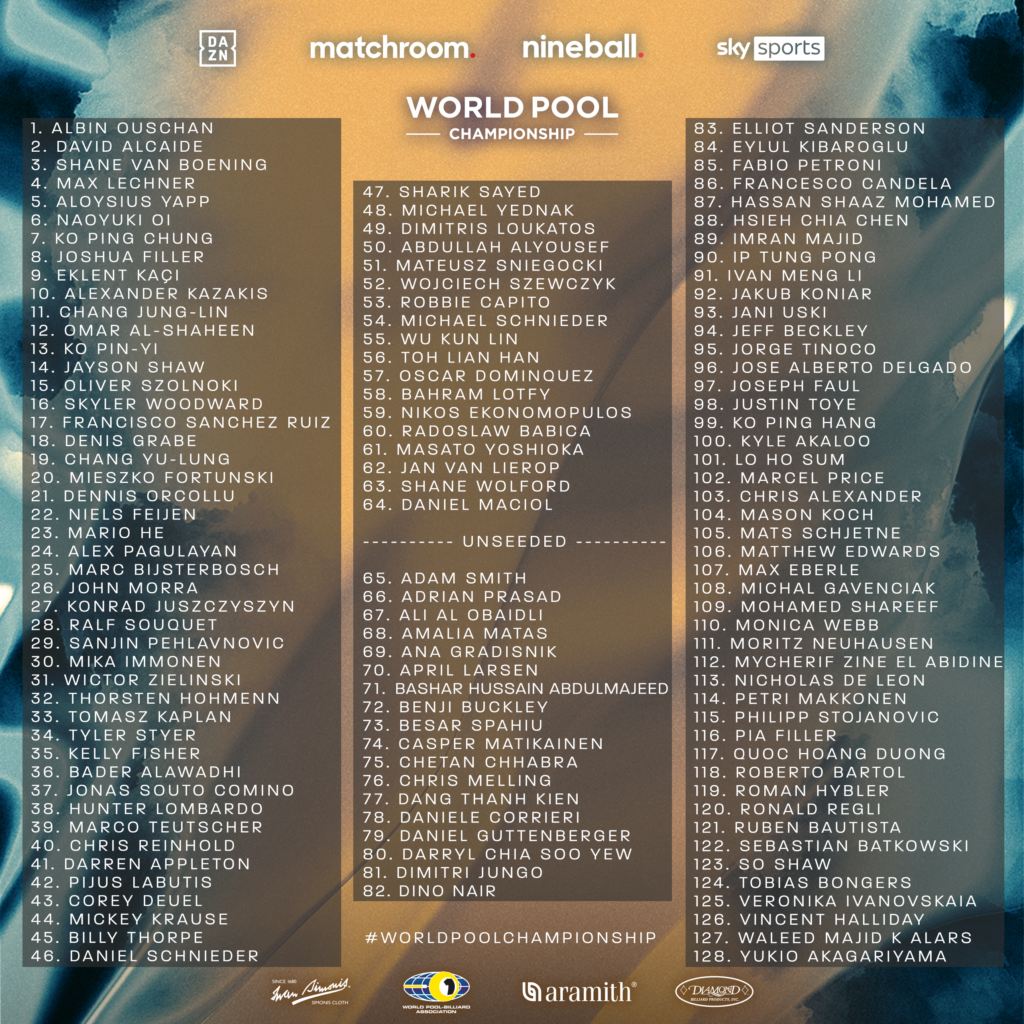 As part of Matchroom's commitment to the global recognition of Nineball as the primary discipline of pool worldwide, the World Pool Championship will see prize money increase from $250,000 to $325,000 with the winner now taking home a record $60,000, the largest winners' cheque in Nineball.
---
Tickets are on sale now to get up close and enjoy action across all 17 tables from only £20 for the day and £100 for the whole week.
For the first time, fans can also enjoy the VIP experience for the semi-finals and final for only £150 with canapes on arrival, free programme, a two-course meal between the sessions plus an open private bar for ten hours along with a premium front three row seat to soak in the action.
---
Selected list of players who were also invited 
Carlo Biado
Wu Jiaqing
Liu Haitao
Johan Chua
Rubilen Amit
Jeremy Sossei
Richard Halliday
Roland Garcia
Jeff de Luna
Roberto Gomez
Lee Vann Corteza
Yuki Hiraguchi
Danny Olson
Rodrigo Geronimo
Andreja Klasovic
Mohammad Ali Berjaoui
Earl Strickland
Jasmin Ouschan
Chen, Siming
Yu, Han