WITH A RELATIVELY poor showing for Europe's stars at the WPA World 9 Ball Championship in Qatar, there has been minimal movement on the PartyPoker Mosconi Cup ranking list. The highest finisher was Poland's Wojciech Szewczyk who reached the last eight to earn 15 points and give himself an outside shot at both the World and Combined list.
Albin Ouschan (Austria) maintained his lead at the top of the World Ranking and a high finish at the US Open next month could see him make his Mosconi Cup debut in December. He leads Spain's David Alcaide by five points with seasoned MC players Mika Immonen and Darren Appleton a further five points back.
The Combined list is still topped by Niels Feijen who was out of the points in Doha but Ouschan is well placed, just four points behind and two events to be played. Those remaining two events are the Dutch Open on the Euro Tour (2nd – 5th October) and the US Open in October.
At the close of the qualification series, the No.1 ranked player on each of the three lists will be named as part of Team Europe as they look to defend their title in Las Vegas from 7th to 10th December.
In the event that a player tops all three ranking lists, then the second placed players on the Euro Tour and World Rankings respectively would take the other two spots. If a player is top of the Euro Tour list and Combined list, or World list and Combined list, then the available spot would go to the next highest player on the Combined list not already qualified.
Taking place from Monday December 7 to Thursday December 10, the Europe v USA showdown is hosted by The Tropicana in Las Vegas and will be the 22nd annual running of pool's biggest event. Each team is made up of five players – three from the PartyPoker Mosconi Cup rankings with the remaining two wild-card picks.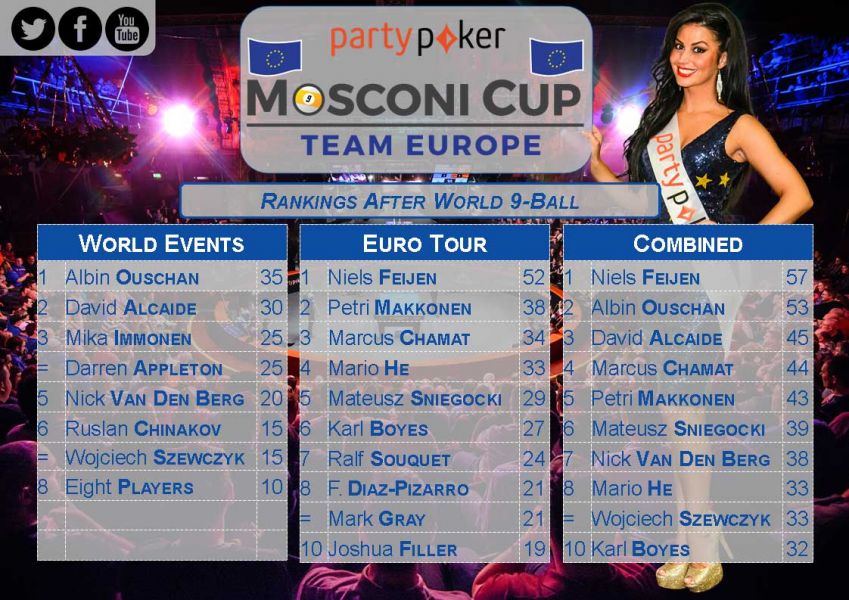 Tickets for the PartyPoker Mosconi Cup are available exclusively through The New Tropicana Las Vegas. Visit http://trop.lv/MosconiCup2015 , call 800.829.9034 or purchase in person at the Show Tickets desk.
There is a single session on each day's play and tickets are priced at $43.45 per session plus commission. The popular season tickets covering all four sessions are available for $154 plus commission. All prices include LET.
Follow the PartyPoker Mosconi Cup on Facebook, Twitter @mosconicup and Instagram @matchroompool
2015 PARTYPOKER Mosconi Cup is sponsored by PartyPoker, the world's leading online poker site. The Official Table of the Mosconi Cup is supplied by Diamond Billiards, the cloth is supplied by Iwan Simonis, Predator supply the Official Cue, Chalk and Bridge and the Official Balls are Super Aramith by Saluc. Ultimate Team Gear is the Official Clothing Supplier.