Europe 4 – 1 USA
Europe 5-3 USA
Shaw & Alcaide 5-3 Woodward & Thorpe
Joshua Filler 5-4 Dennis Hatch
Souquet & Van den Berg 5-3 Dominguez & Van Boening
Jayson Shaw 1-5 Shane Van Boening
TEAM EUROPE hold a comfortable 4-1 lead after the opening day of the 2017 partypoker Mosconi Cup after controlling most of the play in a session that had the distinct feel of one-way-traffic. Only Shane Van Boening's win over Jayson Shaw in the final match saved the USA from a total white-wash as well as giving his side a glimmer of hope for tomorrow's matches.
Taking place at the Mandalay Bay Resort, there was genuine anticipation in the air with a packed 1,500 seat arena. Play started with the traditional team game, giving all players an opportunity to settle their nerves.
With the Rasson table spitting back plenty of balls, it was the most testing conditions at a Mosconi Cup in a long time. However, the Americans couldn't take the few opportunities that came their way while their European counterparts pounced with clinical efficiency.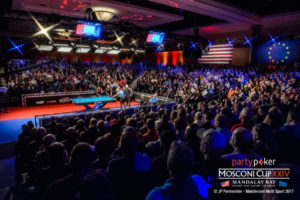 Commented Euro skipper Marcus Chamat, "We had some tough games there – we were leading 4-0 in the first match and they came back 4-3 and it could have been 4-4 and then anything can happen.
"If you look at the way the matches went 4-1 is more than I would have expected, but the reason we won a few tight games is that we ran out and didn't make mistakes. We stuck together as a team – we were having group meetings in the middle of matches, if that is even possible."
As ever there was some controversy and Joshua Filler and Dennis Hatch failed to shake hands at the conclusion of their singles match as Hatch left the arena, which lead to booing from some sections of the crowd.
Chamat though was delighted with the 20 year-old German; "When we played the first team match and Filler ran out, I was in tears because I was happy. He is going to be a superstar, he has talent and his personality is out of this world – he can be the Ronnie O'Sullivan of pool.
"I will take it one step at a time, sit down, have a meeting with the guys and later on I will tell them who is playing when. The first day is always tough and I feel we need to settle down a little bit now and then go through who is playing when tomorrow."
There had been genuine optimism in the air in the lead-in to the event and a belief that a new-look American side lead by Mosconi Cup expert Johan Ruijsink could end seven years of misery. As the session progressed though, that hope slowly evaporated as Team USA suffered a series of reversals.
It was only Van Boening at the death who salvaged some hope.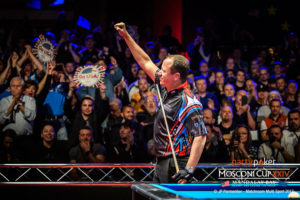 Van Boening said, "It was very important, especially against the No.1 pool player in the world right now. Jayson has been on fire the last couple of months and that was a big win for the whole team.
"We are going to have a different plan tomorrow. We have to work on the break and have to avoid making easy mistakes. We have to re-group tomorrow."
Play continues with a scheduled five more games on Tuesday – three doubles and two singles matches.
Follow the Partypoker Mosconi Cup on www.mosconicup.com and @mosconicup across social media.