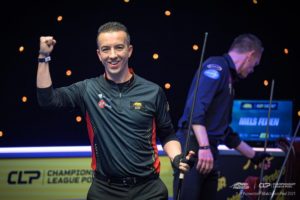 GROUP 3 FINAL
David Alcaide 5-2 Niels Feijen
SEMI-FINALS
David Alcaide 5-4 Billy Thorpe
Niels Feijen 5-2 Albin Ouschan
David Alcaide won all eight of his Group 3 matches to win through to Winners' Group of Predator Championship League Pool at Stadium MK, Milton Keynes on Wednesday.
The Spaniard beat Niels Feijen 5-2 in the Group final and among the 9-balls he made was an up-table bank shot to move 3-1 up that was not dissimilar to the one he famously made under the most intense of pressure to win the 2019 World Pool Masters.
Alcaide had defeated Billy Thorpe 5-4 in his semi-final, his fourth hill-hill win of the day. 'El Matador' had earlier topped the league standings with six wins from six and his group triumph makes him the first player to win all eight matches in one day.
"It is amazing," said Alcaide, who will join Chris Melling and Eklent Kaci in Monday's Winners' Group. "Yesterday I didn't start too good, I lost 5-1, 5-1, but then I gained confidence and today I played really, really well.
"The first match today I played against Albin, I won hill-hill and I won some more matches like that. But I played really solid through the group and the semi-final and final.
"The bank, the moment [to win the World Pool Masters] was amazing, I can't remember everything but when I played the shot and saw all my friends I celebrated. The bank shot was really important. I had missed the 8 but Niels didn't take good position to the 9 and he missed the 9. It was a tough shot to make the 9 ball.
"Every group is so tough. I tried to focus on making the first opportunity I  had to qualify and I was happy to qualify to Winners' Group."
Niels Feijen will return in Group 4, alongside Thorpe and Ouschan, who had lost 5-2 to Feijen in the semi-finals. Mieszko Fortunski, who lost in the Group 2 semi-finals to Kelly Fisher on Tuesday, finished fifth in the League Phase and will also return in Group 4, along with the Group 2 runner-up Fisher, who finished sixth.
Darren Appleton suffered five consecutive defeats and is eliminated after finishing bottom of the table, despite having opened the day with a 5-0 whitewash of Billy Thorpe.
The next two players to join the tournament are Russian female star Kristina Tkach and Japan's popular Naoyuki Oi. They enter at Group 4, which begins at 12 noon (UK time) on Thursday.
Predator Championship League Pool has a prize fund of $85,950. Every day features a seven-player group, with each player facing every other player once in a race-to-5. At the end of the group the top four advance to the play-offs, playing a semi-final and then final, also played as race-to-5. Play-off champions will advance to the big-money Winners' Group on March 29, which will provide the showpiece conclusion of Predator Championship League Pool.
Players who finished bottom of each group are eliminated from the event, while the remaining five players in each group will continue to the next day's play, where two new players enter the tournament.
Action from Table 1 of Predator Championship League Pool can be seen live on FreeSports (UK & Ireland), DAZN and Zhibo.tv (China). Viewers elsewhere in the world can tune in at Matchroom.Live, which also carries global coverage of Table 2.
For all the latest news and announcements follow Matchroom Pool on Facebook, Twitter, YouTube and Instagram.