Niels Feijen took a commanding lead at the top of the European Mosconi Cup ranking list after winning his second Euro Tour title of the year at the weekend.
The Dutchman was MVP at last year's PartyPoker Mosconi Cup, which saw Europe earn an 11-5 victory over Team USA in front of a record-breaking crowd in Blackpool, England and he had already won the Italian Open on the Euro Tour earlier this year.
His win in the Dynamic Austria Open at the weekend saw him open up a 14-point lead at the top of the Euro Tour ranking list, meaning a quarter-final or better finish on home soil at the Dynamic Dutch Open in October will guarantee him a spot on this year's European team.
Feijen defeated Petri Makkonen at the quarter-final stage in Austria, meaning the Finnish star was displaced at the top of the rankings. However he remains in second place with European captain Marcus Chamat in third after he too reached the last eight.
The combined list is now also topped by Feijen with China Open winner Albin Ouschan in second, nine points back with one Euro Tour and two World events remaining.
The next World ranking event is the WPA World 9 Ball Championship (7-18 September) and the whole series concludes with the US Open 9 Ball Championship at the end of October.
At the close of the qualification series, the No.1 ranked player on each of the three lists will be named as part of Team Europe as they look to defend their title in Las Vegas from 7th to 10th December.
In the event that a player tops all three ranking lists, then the second placed players on the Euro Tour and World Rankings respectively would take the other two spots. If a player is top of the Euro Tour list and Combined list, or World list and Combined list, then the available spot would go to the next highest player on the Combined list not already qualified.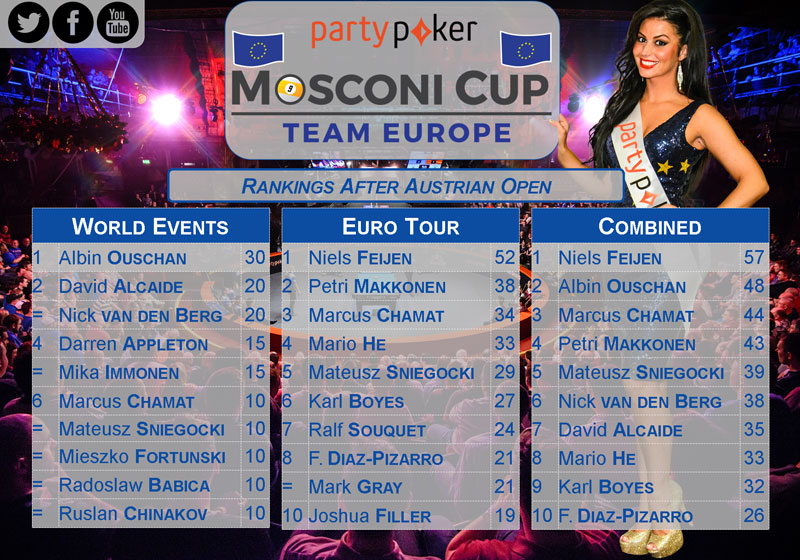 Taking place from Monday December 7 to Thursday December 10, the Europe v USA showdown is hosted by The Tropicana in Las Vegas and will be the 22nd annual running of pool's biggest event. Each team is made up of five players – three from the PartyPoker Mosconi Cup rankings with the remaining two wild-card picks.