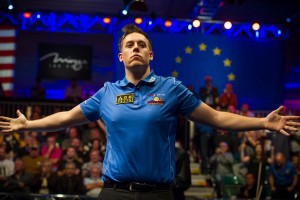 England's Karl Boyes pulled off a minor miracle to qualify automatically for his fourth PartyPoker Mosconi Cup as came through a tough field to grab the runners-up spot at last month's US Open and leap frog a host of contenders into Team Europe.
And the Blackpool-based Boyes will be sporting the biggest win percentage of any of the ten competing players when he enters the fray at the Tropicana on 7th December. He has an 81% win rating having scored 13 victories from his 16 matches and it may be one of a number of reasons that make him the man the American fans love to hate.
Commented Boyes, "I know I will be hated from all the USA fans but I know the person I am and so does my family so I can handle all the haters. I will use that energy to give me more determination just like the US Open.
"To be making my fourth appearance this year is pretty special for me. To think I'm actually involved in this great event is crazy, never mind playing my fourth! It's without doubt my proudest moment as a player making Team Europe after the year I've had. My father passed away and soon after myself and Lynette (Karl's partner) found out we were having a baby boy so that was a crazy emotion."
Boyes first hit the Mosconi Cup radar in his 2010 debut when Dennis Hatch dubbed him the 'weak link' in a strong European team. It was a comment that came back to haunt the Americans as Boyes four wins from five matches helped Europe to a hard-fought 11-8 win.
Then in 2013 Boyes joined the all-star line-up for the 20th anniversary 'Legends Edition' Mosconi Cup, and there were some who felt his place in the team was undeserved. It proved academic as the Europeans romped to their best ever win as Boyes won three from four.
The Englishman's brash, flash style has never stuck with American fans and his standing took a further battering at October's US Open when he called a foul on Shannon Daulton, when the American allowed the cue ball to come into contact with his resting cue after the 9 ball had been potted. A referee was called and the upshot was the Boyes was given ball in hand at a critical juncture of the match.
There was uproar at the venue and social media and message boards exploded into action as fans across North America lined up to castigate Boyes.
"The whole pool world and social media just went crazy! I was more or less getting death threats from all these crazy keyboard warriors. To me it's simple as we play all-ball fouls in WPA world-wide tournaments and it's not my fault if American pool players are used to touching balls and then replacing them, which is a crazy rule in my eyes.
"It's all water off a ducks back for me though because if you play pool for a full-time job you're prepared for anything. Don't get me wrong, I thought this is way over the top but having played pool for the best part of 20 years I have to say I've met some absolute lunatics that need sectioning but at the same time there are some great people who will be friends for life, and in some ways pool saved me. "
Despite a host of team and individual honours, including the WPA World 8 Ball Championship in 2010, Boyes feels that he's a little underrated, particularly in America.
"I don't really play a lot in America but when I do, I don't run around the room shouting 'gamble, gamble!' and shake hands with every man and his dog. My pal Darren Appleton has achieved so much in 9 ball since we made the switch from English 8 ball and I think it's a fair comment to say I'm the next man in line from England with what I've done in the game too. If people don't know what I've achieved then they clearly aren't fans of pool!"
Standing between Boyes and a fourth Mosconi Cup gold medal is an American team in the midst of the biggest drought in Mosconi Cup history.
"I think the American team these last two years is getting there and I can see where it's heading in the future and it's promising," said Boyes
"They have youth and experience this year but top stars like Shane and Mike Dechaine need to perform, as the rookies and less experienced players rely on their main men. In past Cups those two haven't played great and have looked pretty average, but I suppose that just shows you how hard it is out there."
"In the end though, I think it's purely down to bottle. It's simple; if you don't pot the ball you don't win and I think we are better cueists under pressure. It's live TV around the world with a 1,000 seater arena and in short races it's all about single ball potting. This isn't a race to 100 in smoky pool room gambling for your backer's money, this is the real deal!"
For Boyes though, the Mosconi Cup is without doubt the zenith of his professional year;
"I love it! I can't believe I used to watch it as a 250 lbs fat English 8 ball pool-playing kid and now I'm getting ready to fly to Las Vegas to represent Europe for a fourth time weighing in at around 196 lbs! It's without doubt the best event and the highlight of a pool player's career. I will be disappointed if we aren't partying on the Wednesday night like 2013!"
Tickets for the PartyPoker Mosconi Cup are available exclusively through The New Tropicana Las Vegas. Visit http://trop.lv/MosconiCup2015 , call 800.829.9034 or purchase in person at the Show Tickets desk.
There is a single session on each day's play and tickets are priced at $43.45 per session plus commission. The popular season tickets covering all four sessions are available for $154 plus commission. All prices include LET.
Follow the PartyPoker Mosconi Cup on Facebook, Twitter @mosconicup and Instagram @matchroompool
2015 PARTYPOKER Mosconi Cup is sponsored by PartyPoker, the world's leading online poker site. The Official Table of the Mosconi Cup is supplied by Diamond Billiards, the cloth is supplied by Iwan Simonis, Predator supply the Official Cue, Chalk and Bridge and the Official Balls are Super Aramith by Saluc. Ultimate Team Gear is the Official Clothing Supplier.