The full line-up for the 2023 World Cup of Pool is confirmed with China making their long-awaited return to the tournament in Lugo, Spain from June 27 to July 2 live on Sky Sports in the UK, DAZN in Spain, USA, Italy, as well as live on Matchroom.Live in selected territories.
All 32 teams confirmed as they do battle for the lucrative prize pot of $250,000 plus the pride of representing their country in one of the sports most unique format with Spain looking to defend their title on home soil at Pazo de Ferias y Congresos de Lugo with WNT No.1 Francisco Sanchez Ruiz and two-time World Pool Masters winner David Alcaide. As hosts, Spain will also field a B side in Jose Alberto Delgado and Jonas Souto Comino with the pair looking to make their mark as a seeded team.
15 of the 16 countries qualified via the World Nineball Tour after the conclusion of the World Pool Championship in February with 2021 champions Germany set to see Joshua Filler from that winning team pair up with rising star and WNT No. 30 Moritz Neuhausen. Austria's two-time winning duo of Albin Ouschan and Mario He are reunited whilst the Ko brothers will compete once again to do battle as they look to add to the one star on the Chinese Taipei jersey.
Mohammad Soufi's incredible run to the World Pool Championship final has earned Syria a debut World Cup of Pool spot with Zaid Al Shariti joining the WNT No. 12. Great Britain's charge for the title will be led by Jayson Shaw alongside Elliott Sanderson who will represent the red, white and blue for a second time.
On the unseeded side all sides are wild cards, there is a welcome return for China with Wu Jiaqing and Wang Can tasked with returning home with silverware for the first time since 2018. Myanmar (Burma) will make their debut in the tournament with SEA Games gold medalist Phone Myint Kyaw's pairing up with Thaw Zin Htet whilst Peru's Christopher Tevez and Gerson Martinez will fly the flag for South America. Vietnam's dangerous duo of Duong Quoc Hoang and Nguyen Anh Tuan will look to do some damage and SVB Junior Open winner Khalid Alghamdi will get his first taste of the World Cup of Pool with Mohannad Hamoud Alghumayz for Saudi Arabia.
The most successful nation in history in the Philippines also find themselves unseeded with James Aranas and Johann Chua looking to win a fourth title for the pool-crazy nation and show Pinoy Power on the world stage once again.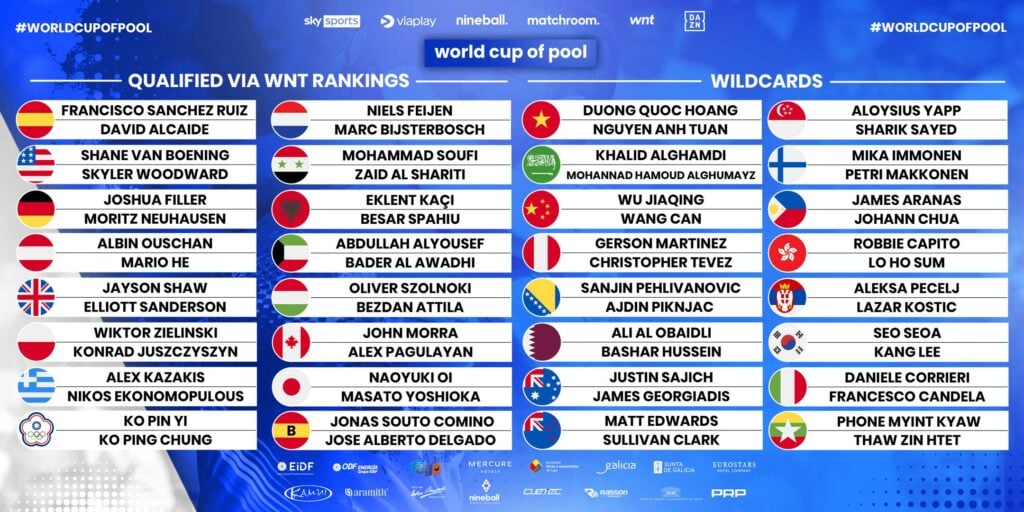 The 2023 World Cup of Pool will be played alongside the 31st Galician Team Pool Billiards Championship, which will bring together more than 1,000 players in the Pazo de Ferias y Congresos de Lugo, where more than 40 tables will be in action. The participants in this tournament considered the biggest in Europe, will compete for the regional titles and the prizes arranged by the Galician Association of Pool Billiards.
Prior to the World Cup of Pool, all players competing will also look to become the inaugural Spanish Open Pool Championship winner with the 256-field signature Matchroom multi-table event promising to deliver epic drama over six days with a $200,000 prize fund on the line.
WATCH
The World Cup of Pool will be live on Sky Sports in the UK and Ireland for all six days with those in Spain, Italy, and the USA able to watch on DAZN. Fans in Scandinavia, Baltics, Netherlands, and Poland can watch on Viaplay with further broadcasters around the world. See where to watch in your country here with more broadcasters to be announced. Action will also be live on Matchroom.Live.
TICKETS
Additional tickets for the 2023 World Cup of Pool are now on sale with allocations selling out within 24 hours. Buy tickets here from only €15.