Player Entries
---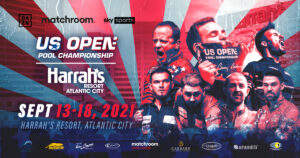 The field for the 2021 US Open Pool Championship is now FULL.
Players wishing to play the event can join the Waiting List. If places become available in the 2021 US Open Pool Championship, players will be contacted on a first-come, first-serve basis.
Players inside the top 50 of the Matchroom Pool World Ranking can still enter up until July 16, after which places will be returned to those on the waiting list. Players in the top 50 who have not yet entered and all former US Open Champions will be contacted directly.
For any queries regarding player entries, please email pool@matchroom.com.